Iyyappan pilgrim coincidental
It was a week after the tsunami 2004 hit the coast of Tamil Nadu that I encountered an opportunity. It was to be a Iyyappan pilgrim (wiki) with a group of devotees from South India. This was an unplanned pilgrimage in so far as I had not made arrangements in Australia with the group prior to arrival in India. However the sense of pilgrimage was on my radar since it did have similarities to the secular pilgrimage with a pack donkey that I under took in 1997 which just after a year long traveller style pilgrimage in India in 1995/6. So I had began to seriously consider pilgrimage as a means to understand the correlates of rarefied states of consciousness (experience of rare states). Pilgrimage was active were as sitting in meditation was passive. The hypothesis is movement entails naturalism which is more in line with our (humans) core evolutionary history. Pilgrimage can be theorised as having a primordial intentional purpose that incorporates a humanistic activity more in line with hunter gather societies.
Iyyapan pilgrimage 2005
I was dazed-out after the tsunami event. The wave hit the coast leaving devastation and I just was about to go inland when a sculptor from the guild I had become interested in doing training mentioned the Iyappan pilgrimage. It coincidence was astonding given if not for the Tsunami the chances going on a exclusive South Indian pilgrimage is remote, as I found out when again in Mammalapuram in 2018. They despirately wanted me to stay around and found that I had a vague desire to do pilgrimage. It's another matter if I were doing a thesis and had arranged it from abroad between a university within Australia and India, but this was not the case, all though I had recently completed my degree majoring in studies of religion.
Iyyappan pilgrim prepares.
The preparation for a traditional Hindu pilgrimage as I found out was quite involved, but not entirely out of my comfort zone. After all I had 20 years back ground in being familiar with Hinduism various Hindu based schools of thought. Though that said it required focus on being healthy and able to cope with the new social circumstances. I had to take initiation prior to the pilgrimage and take vows of abstaining from numerous behaviours and attitudes.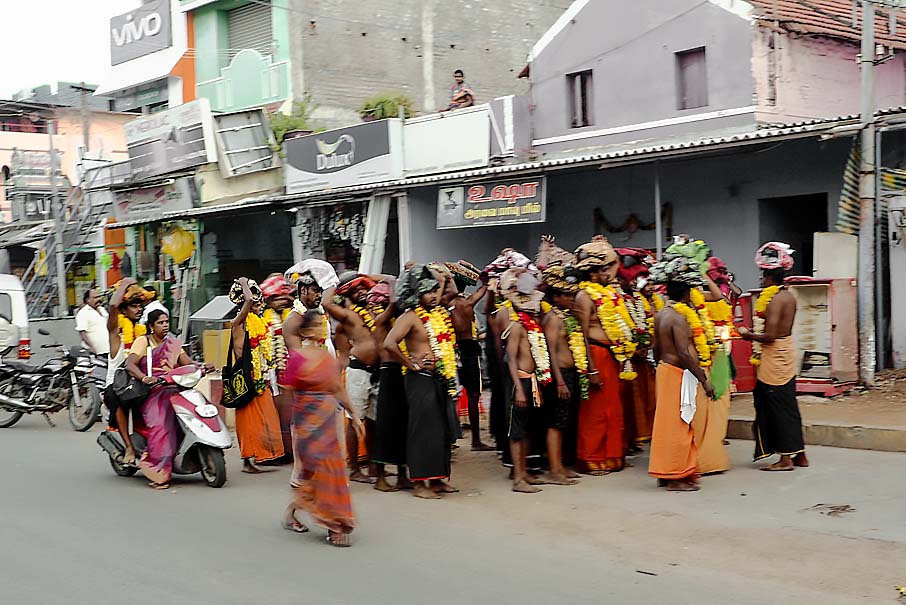 Sabarimala mountain is a pilgrimage site with a slow gradual assent that culminated with huge flames from piles of coconuts being burnt. I arrived in the early hours where I was assured into the area for preparation to view the Iyyappan temple. The actual central location housing the icon is a barricaded and roped circuit. Pilgrims must follow the path between the ropes for a brief view the icon before being shuffled off again. It was a slow shuffle with the human crush factor was manifold as I got closer to the icon. A keen sense of balance an push-back was key to survival.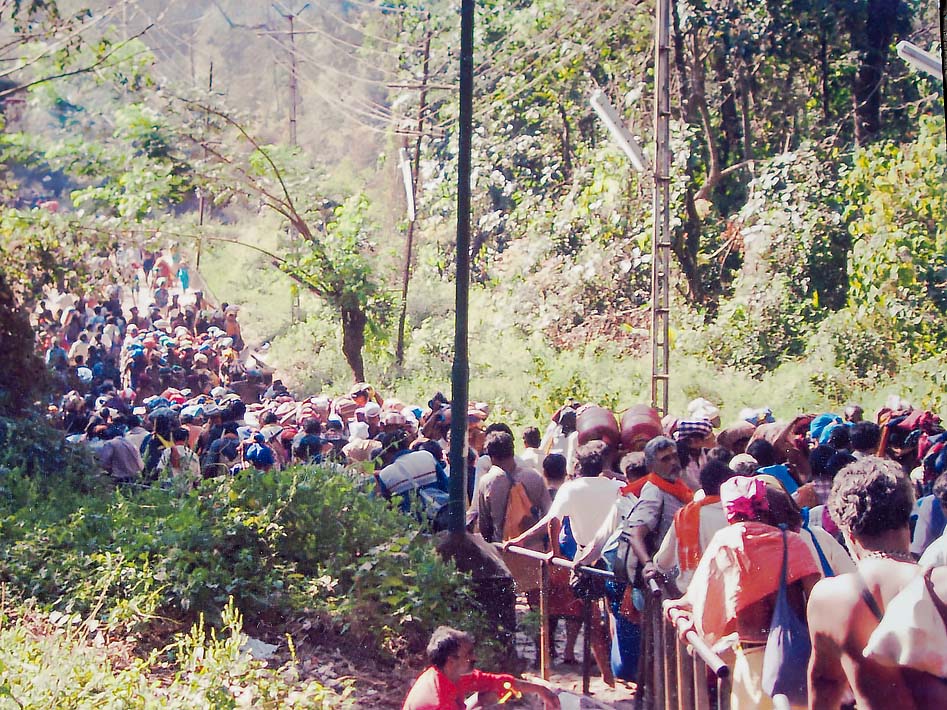 Iyyappan pilgrim descends the mountain.
It was after the viewing with all its difficulty as well as the recent Tsunami event that upon descending Sabarimala mountain I had possibly a kind of epiphany. It was not a road to Damascus moment, like when I joined the Brahma Kumaris in 1984. It was one where a correlation of life events gave me a sense of commitment. This was not to a group as such but to to a form of representational realism that had a material basis as artefact. The sculptors around me were a testament to the ideal. So I decided to at least stay on at the sculpture town of Mamallapuram and participate with the stone sculptors guild for a few month which turned out to be for the entire six month of my visa.